Derma PCD Franchise In Visakhapatnam
Derma PCD Franchise In Visakhapatnam- The skin issues are hiking on a large scale that pushes the demand for derma products. In order to fulfil the high requirement of derma products, we at The Aesthetic Sense have reached various regions. It also provides business opportunities to those who have been seeking the franchise business. Our ISO-certified derma company offers the Derma PCD Franchise In Visakhapatnam. We work as per the norms set by WHO and GMP to match the international standard of the company.
The Aesthetic Sense is an ISO certified derma franchise company in Visakhapatnam that works on various skin issues. We have a diverse selection of DCGI and FSSAI approved derma products that are widely used for skin disorders. These vast ranges include tablets, capsules, ointments, cream, lotion and other products are available at affordable prices. This Derma PCD Franchise In Visakhapatnam not only offers high growth in the market but we also provide monopoly rights, promotional tools, incentives and other benefits to promote franchise business.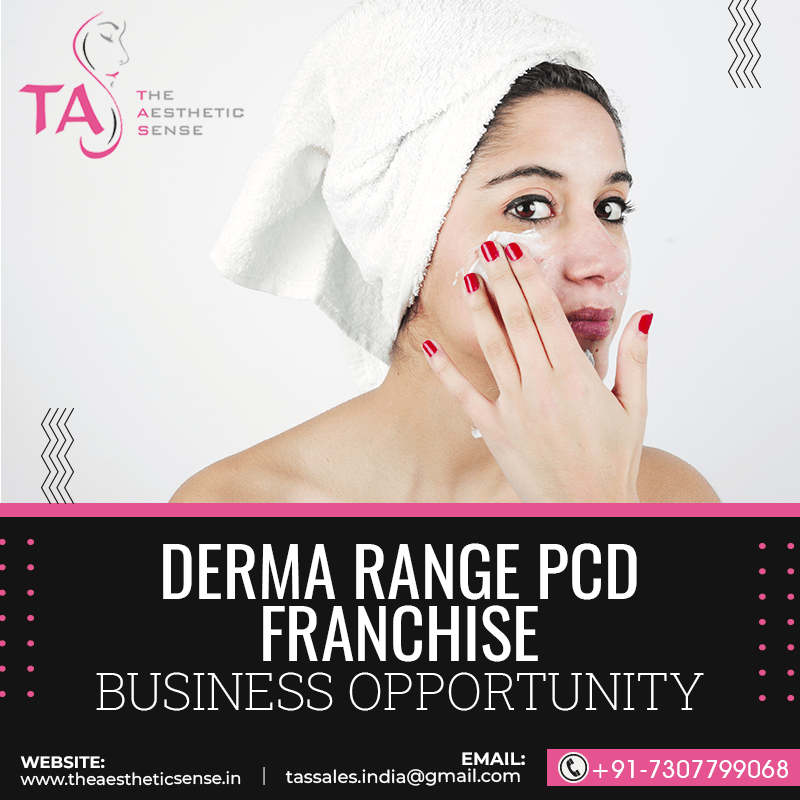 If you are interested in starting a Derma PCD Franchise In Visakhapatnam then contact us by calling at +91-87270 99068 otherwise you can also mail us at tassales.india@gmail.com.
Why Choose Us For Derma Franchise Business In Visakhapatnam?
The Aesthetic Sense is a prominent name in the dermatology market and has a high proficiency in the derma field. Our derma company has been leaving a significant benchmark in the derma industry through quality skin products. We have achieved various nominations in the market as we always work with full transparency. Further, our company is backed by well educated and experienced staff that has been working tirelessly with us for a long time. Our vast customer base helps us to touch the high growth in the market.
The unit where our products are manufactured is well equipped with hi-tech machinery and other tools.
Our derma franchise company basically believes in transparency and makes us trustworthy in the market.
All machinery and equipment are well lubricated and serviced for better performance.
We deliver the products in a given time since we are enabled by the logistics team.
The research team usually brings the latest products in the market by knowing the demand from the sales team.
Effective Skin Care Products For Franchise Business
Achieving quality in the products is our main purpose and we are fully emphasising on dealing with the quality of the products. Our vast range of derma products helps our clients to make a strong position in the market and become derma experts. Moreover, to achieve effect in the product our all products are processed in strong supply chain management. It reduces the excessive use of raw material and manages it in an efficient way. Also, it maintains the quality of the products as well as make it cost-effective as it reduces the raw material and labour.
Some products in which we deal
Cream:-
Furo Sense
Hydra-sense
Ketcotas cream
Clinclotas A Gel
Tablets
Azprotas 250
Betasense-16 Tab
Flucos-200 Tab
Soaps
Aloe Sense Soap
Ketcotas Soap
Permi-Sense Soap
Lotions
Collyrium Body Lotion
Lucosense Lotion
Terbo Sense Lotion
Capsules
Itotas-100
Isrtotas-10 Cap
Clinclotas-C cap
Facewash
Hair Beauty
Frupaya Face Wash
Ultrasense Hair oil
Mesmicoal Charcoal Face Wash
How Is Our Company Beneficial For Franchise Business?
The Aesthetic Sense is a well-known customer-oriented firm that consistently meets the needs of its clients, whether it is through the provision of high-quality derma products or other advantages. We feel that offering the highest quality products equates to receiving great returns since we recognise our responsibilities as it relates to the health of our society. We have achieved this huge accomplishment thanks to our hardworking clientele who transport our products to various parts of the country. As a result, we constantly stick by our clients and help their businesses in any situation. Here are some of the benefits to which we deal.
Sales assistance- Our marketing staff is always there to assist our clients whenever they want it. Essentially, they educate the most effective marketing strategies so that our clients may establish a grip in the industry.
Monopoly rights- We provide Derma Franchise in Visakhapatnam on a monopoly basis, which means that we never distribute our eye drops franchise company to a third party.
Promotional Tools- We provide our clients with a company-branded notebook, marketing bag, chemist billing book, visiting cards, and other products. These are responsible for marketing the firm and advertising the products.
Visual aid- It covers all of the product's vital information in appealing visuals and is effective for marketing as well.
How Is The Derma Business Is Better Idea To Get High Growth In The Market?
Today, the derma market is worth more than 60 Billion US dollars. That is incredible and this value is expected to reach 115 Billion in 2030. This value is rapidly increasing because the demand for skin care products is rising at a fast pace due to modernization amongst youngsters and people of other ages. These days every individual wants to look fair and has healthy and glowing skin. However, we also can not neglect the skin issues such as
Acne
Hives
Eczema
Rosacea
Vitiligo
Psoriasis
Ichthyosis
That is why our derma franchise in Visakhapatnam brings lots of business potential and gives a chance to grow.
We are inviting derma professionals to get our Derma PCD Franchise In Visakhapatnam and have high growth in the market.
Contact Information :
 Tas Derma Pvt.Ltd.  
Address – Pchpl Building, D161A, Phase 7, Industrial Area, Sector 73, Sahibzada Ajit Singh Nagar, Punjab 160055

E-mail:  tassales.india@gmail.com
Phone : +91 87270 99068