Derma PCD Franchise in Baddi
Derma PCD Franchise in Baddi– The dermatology market is the perfect location to make a long-term investment. The demand is gradually increasing, and you may make a nice living from it. The Aesthetic Sense is a well-known Derma PCD Franchise in Baddi, with a reputation for providing high-quality skincare medicines and products. Moisturizing lotions, gels, antibiotic creams, organic soaps, anti-dandruff shampoos, anti-allergic tablets, nutraceutical capsules, and other items are available through our company. They are available for the PCD franchise at the most affordable prices, as well as superior business potential.
The Aesthetic Sense is the most trusted dermatological company, with different industrial and ethical features such as work transparency, complete customer happiness, safe drug usage, constant innovation, and professionalism driving the dermatology sector. We are offering excellent business prospects for the Derma PCD Franchise in Baddi after noticing the high need for derma products among the people of Baddi. We bring you attractive incentive offers, a bonus, and a wide range of dermatology drugs. We guarantee that you will benefit from a customized variety and expanded commercial opportunities in the derma care sector.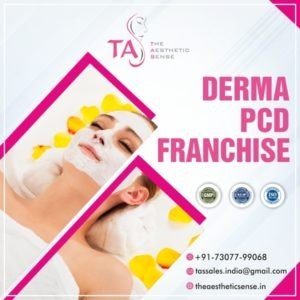 If you have any questions or would want to learn more about the company or the derma goods, please contact our representative at +91 87270 99068 or via email at tassales.india@gmail.com. We'll be there for you whenever you need our help. Please do not hesitate to contact us.
Choose the Leading Dermatology Company in Baddi- The Aesthetic Sense
The Aesthetic Sense is a quality-oriented company that manufactures and develops pure, effective, and long-lasting skin care products that meet or exceed international market requirements. We are now effectively supplying the top quality derma products to meet every bit of skincare demand of customers thanks to the combined efforts and constancy of our skilled staff. We already have a footprint throughout India, and we are ready to expand into Baddi.
We are supported by an expert team that has been working with us for many years, and we are able to produce the greatest molecules as a result of their numerous tries on our premises. We are always changing quality methods to bring in superior derma therapeutic treatments, with the goal of providing top-grade derma formulations.
The Aesthetic Sense's unique features include:
Our complete product line has been legally approved and is backed by world-renowned physicians.
The company manufactures pharmaceuticals in a very sterile environment.
On our formulas, quality inspectors have a clear picture.
We conduct our entire manufacturing process in excise-free zones.
The company is always developing new derma treatments for a variety of skin conditions.
Quality Products that Make us Different from other Derma Companies
The Aesthetic Sense believes in providing comprehensive nourishment to the skin, so we provide nature-inspired derma solutions made with only natural and pure ingredients. We offer high-quality derma solutions that have been thoroughly researched and manufactured under sanitary conditions. Our derma formulations are created to protect the skin from damage, aging, environmental aggressors, and other detrimental factors while also providing the best outcomes for the skin. The following is a list of our special derma product line that is accessible for the Derma PCD Franchise in Baddi:
 Creams / Face wash / Lotions / Tablets / Capsules / Ointments / Gels / Syrups / Shampoo / Oils / Moisturizer / Soaps / Body wash
Interesting Benefits of Joining Derma PCD Franchise Company in Baddi
The Aesthetic Sense is a place where you may get high-quality dermatology goods and profitable business opportunities. One of the most significant advantages of working with us is the high-profit margins and great expansion potential. We are a proud ISO Certified Derma PCD Franchise Company in Baddi on our way to the maximum level of achievement by enhancing our efforts. You will be able to take advantage of a long number of benefits as well as high-quality derma formulations that are purely created under WHO-GMP facilities under the supervision of qualified professionals.
The following are some of the advantages of beginning a business with The Aesthetic Sense:
Franchise Opportunity Based on Monopoly Expedite Product Delivery Safe and Attractive Medicine Packaging
Free Marketing Assistance
Derma Products that have been approved by the DCGI
Better business deals and colossal investment strategies
A Wide Range of Products at Nominal Prices
Effective Promotional Backup is Given by The Aesthetic Sense 
What if you want to start your own derma business but don't know how to advertise it effectively or how to expand your market reach? To ensure that our associates do not have to deal with such issues, The Aesthetic Sense offers them complete marketing help at no cost. We recognize the importance of using the correct promotional materials and marketing methods to help a company grow. We have brought along a large chunk of promotional materials for all of our associates as the Best Derma PCD Franchise in Baddi. The following are a few of them:
Reminder Cards / MR Bags / Visiting Cards / Postal Envelopes / Pens Set / Company Letterhead / Chemist Order Book / Notepads / Small Gifts / Diaries / Visual Aids, and so on.
CONTACT US :
Tas Derma Pvt.Ltd.  
Address – Pchpl Building, D161A, Phase 7, Industrial Area, Sector 73, Sahibzada Ajit Singh Nagar, Punjab 160055
E-mail:  tassales.india@gmail.com
Phone : +91 87270 99068