Derma PCD Franchise in Siliguri
Derma PCD Franchise in Siliguri – The demand for different skincare products has gone up due to the increasing number of issues that people are facing. Common derma-related issues include rashes, acne, pimples, dark dots, hives, and some other issues. People tend to ignore them at the first instance which comes later in bigger forms. One of the reputed names in the Pharma sector, The Aesthetic Sense is offering a really wide range of Pharmaceuticals and is also offering the best Derma PCD Franchise in Siliguri.
Being a well-known Pharmaceutical firm we are committed to delivering quality rich derma care products to all those who are connected with us. The products offered by us are approved by DCGI & FSSAI and are effective against all kinds of skin disorders faced by people. A wide range of product types is offered by us which consists of tablets, capsules, syrups, powders and much more. Plus we give utmost attention to making sure that the linked individuals get full satisfaction which makes us the best Derma PCD Franchise in Siliguri.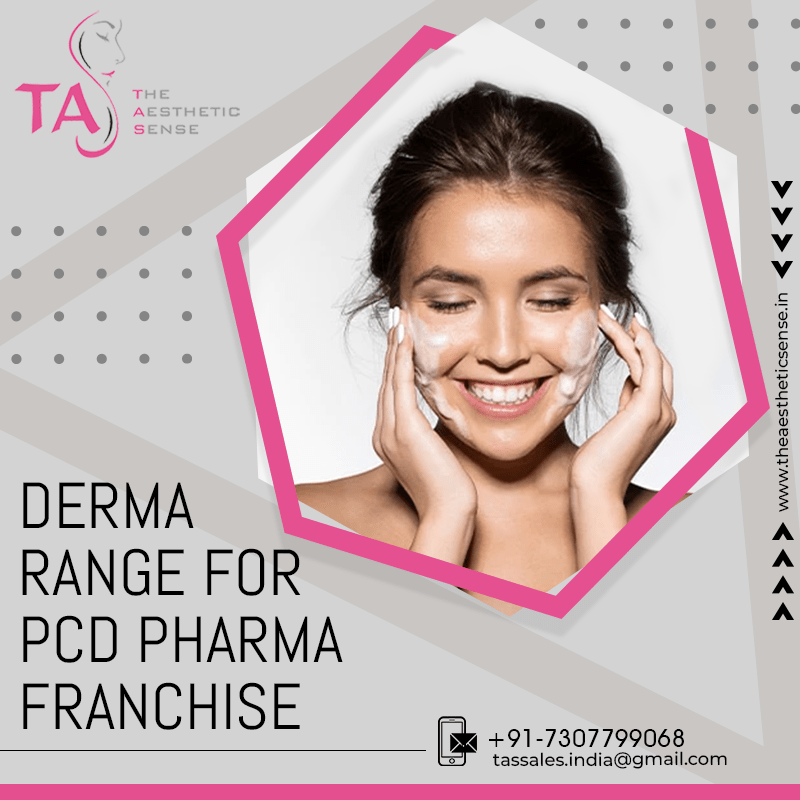 Contact us to know more about our dema franchise business by calling at +91 87270 99068 or send us an email at tassales.india@gmail.com.
Scope Of Dealing in Dermatology Products & Medicine Business In Siliguri
Siliguri is a city in the beautiful state of West Bengal which has seen tremendous growth in recent times regarding the use of derma products. All the people nowadays tend to look beautiful and attractive and to do that they need some kind of derma care product which they can rely upon. They tend to avoid inner health and try to look fair enough from the outside of their body. To fulfill this increasing demand people need some form of derma care product so that they can set themselves free of the problems that they are facing. 
People have adopted a really very bad lifestyle plus they tend to overlook the importance of following a skincare routine.

Because of the adulteration being caused in major food items people tend to develop different skin and other health-related problems.

The CAGR of the Derma Franchise Business is around 9% which clearly witnesses its huge scope.
Why Consider The Aesthetic Sense For Derma PCD Franchise Business in Siliguri?
Our firm is focused on serving people with top-notch pharma products and making them available at a very viable rate so that all those who are having some kind of skin issue can set themselves free from the same. As the skin is the largest body organ, taking its proper care becomes very important for anyone who wants to have brighter and healthy skin which is free from any problems. Regular research work is done by our team of experts as they want to come up with those quality-based derma products which are having minimum side effects.
We are using hi-tech machines for the production of all kinds of derma care products.

To improve their performance regular lubrication is done on all the machines.

A very competitive manufacturing team is helping us to deliver the best possible products.

The R&D linked with us helps the firm to achieve the sales targets and accordingly the share of benefits is shared with the linked partners.
Quality-Based Derma Care Products For Various Skin Disorders
The Aesthetic Sense is striving on only one single motive i.e to provide people with the best possible products and services. Strict guidelines are followed while manufacturing all the goods which are related to dermatology. This practice adopted by us helps us to earn a better name for the Derma PCD Franchise in Siliguri as well as for the associated parties as well.
All the norms which are made by GMP, WHO, IMA, and other regulatory authorities are being duly followed by us so that the final end customer gets what they really deserve to get. Regular inspection is done at every stage of production so that no room is left for any kind of problem to arise. Our firm specializes in manufacturing derma care products that are free from any harmful chemicals.
Have a look at some of the product ranges that we have to offer: 
Oils / Soaps / Gels / Syrups / Shampoo / Creams / Face Wash / Moisturizer / Body washes / Lotions / Tablets / Capsules / Ointments
Perks Of Getting Linked With The Aesthetic Sense
Being a customer-oriented Derma PCD Franchise in Siliguri we are committed to delivering the best possible Pharma products to all the linked parties. We are of the motive that one must remain in long term relationships no matter in which kind of business people are engaged as it will result in a strong bond of unity.
Since our very inception, we haven't left any stone unturned in the process of satisfying our clients in the best possible manner so that they can feel motivated. A large number of additional benefits will be given to all those who are planning to get linked with a Derma PCD Franchise Company in Siliguri. Have a look at some of the benefits/perks that we'll be providing to all the linked individuals.
Promotional Tools:

Having so many promotional tools to offer such as chemist billing books, diary pads, MR bags, etc makes us the top Pharma firm in Siliguri.

Fair Value Charged

: We tend to do all the manufacturing tasks as per the needs of the linked party so that they only have to spend a little amount of money on attaining our products.

Other Incentives

: Some other incentives are also provided by us which consist of monetary ones as well as non-monetary ones. This helps the clients to work in a motivated way.
So what are waiting for, come ahead and start your own Dermatology PCD Franchise Business In Siliguri. 
CONTACT US :
 Tas Derma Pvt.Ltd.  
Address – Pchpl Building, D161A, Phase 7, Industrial Area, Sector 73, Sahibzada Ajit Singh Nagar, Punjab 160055
E-mail:  tassales.india@gmail.com
Phone : +91 87270 99068