Derma PCD Franchise in Noida
The state, Noida is known as the planned city of India. The state is also known as the rising pharmaceutical hub as the government of Uttar Pradesh is coming up with many health schemes and programs for people welfare.  By looking at the current scenario, it is the best time to invest in one of the leading industries of Noida. The Aesthetic Sense brings you monopoly pharma franchise business opportunities in your location. Our Company is the best Derma PCD Franchise in Noida. All our business plans include a variety of promotional, marketing, and other benefits support to the associates connect by our company.
The Aesthetic sense understands the value of quality treatment therefore, we offer only certified drug range in the market. Our skincare range consists of various segments like tablets, capsules, powders, ointments, sunscreen, gels, creams, syrups, etc. Multiple market segments of antibiotic, anti-inflammation, anti-allergic, analgesic, multivitamin, etc are also offered in Derma PCD Franchise in Noida. Our company is a leading derma franchise that has DCGI approved drugs that are appreciated by a dermatologist, customers to clients. Our whole drug range is very famous in the market as they work effectively of any skin type.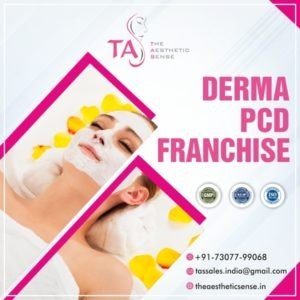 We know while starting your own firm there are many questions and doubts that why we offer hassle-free conversation to our clients with our experts. You can call us at +91 87270 99068 or you can write to us at tassales.india@gmail.com. In case you are running short of time, drop us a message in our inquiry box or directly email us at the address given at the end of the page.
Noida – "The Perfect Place for Pharmaceutical Business"
Noida is known as the developing city of Uttar Pradesh holding many great opportunities for newcomers. Derma Franchise business in Uttar Pradesh is a great idea. The skincare treatment is at the peak in this state. With the growing number of hospitals and clinics in UP, the initial demand for better and quality drugs is also increasing. Derma PCD Franchise in Noida will help you cope up by sweeping better ROI and profits in Uttar Pradesh.
Some of the other reasons to choose the Derma franchise:
The business is very affordable even for newcomers.
The risk involved in the franchise business is almost zero.
The business gives you a chance to work in your desire location.
All the back support and plans are provided by the company so, you don't need to waste extra money.
Top Cosmetology & Dermatology Company in India | the Aesthetic Sense
Dermatology is one of the leading and new kings of the market. Derma products have an on-going demand across the nation as everyone is willing to spend money on quality skincare treatments. Investing in one of the growing segment carries a bright scope for pharma professionals. The Aesthetic Sense is the known name of the top and certified product range in the market. We have wide networking of our pharma marketing services in all the parts of India. Currently, we are offering Derma PCD Franchise in Noida at reasonable price rates. Each of our skincare medicines and products is made using rich quality material and the best high-tech machinery.
Features of our company also include:
We have WHO and GMP certified manufacturing units for derma range production.
Our whole medicine range is DCGI approved.
We have multiple production houses in all parts of the nation for better delivery.
The company is tied up with the best networking company for 24hour delivery services.
Best Packaging material is used for the derma range.
All the manufacturing and packaging take place under the supervision of the experts.
Top Ranked Derma Range Offered by the Aesthetic Sense
The Aesthetic Sense has set its name as a company that provides the best quality and safe Derma and skincare product range. To offer the best pure, safe, and quality products, we have taken a step further and established a separate quality check department in our company. This means that every product delivered by us had gone through several quality checks before getting delivered to you.
Some of our latest derma range includes:
Tas Gluta Cream
KN95 MASK
Frupaya
LUCO SENSE CREAM
NADI SENSE
DEFZATAS
FURO SENSE
CLINCLOTAS A GEL
AZPROTAS 250
AZPROTAS-500 TAB
BETASENSE-16 TAB
FIO-TAS 120 TAB
Why Choose The Aesthetic Senses For Pharma Franchise for Derma Range?
Our company is a highly spirited and hard working company that works day and night to bring better solutions in the market for our consumer's better skin and hair. Our company is welcoming new members through Derma PCD Franchise in Noida, who are as dedicated and full of conviction towards their business. We will be providing good support and better opportunities in their business.
Some of the perks our partners will enjoy:
Wide range of promotional tools provided by our company.
Better incentive and bonus.
Growth in the market with better opportunity.
Fast delivery of your order.
Easy work plans.
Products availability all the time.
Our company welcomes all those who want to start their own business in this industry. Our pharma marketing agreements are transparent and expect a long-term deal with our partners. A mutual growth and good understanding are assured from our end. You will be given the best quality skincare products and medicines that will help you get better growth in the market.
Contact us
The Aesthetic Sense
Phone no- 87270 99068
Email ID- tassales.india@gmail.com