Derma PCD Franchise in Kota
Derma PCD Franchise in Kota – The Aesthetic Sense is a reputable pharmaceutical company in India that has been working for the welfare of the people for over a decade. With the devotion and hard effort we put into our pharmaceutical product manufacturing, we were able to achieve the pinnacle of the healthcare sector. We can provide the best medicines in the country thanks to our professional personnel and WHO-GMP-certified facilities. Our Skincare Products are made entirely in state-of-the-art manufacturing facilities. Our Derma PCD Franchise Company in Kota is now available and many other districts of Rajasthan, allowing us to expand our workspace in other regions of India.
We are an ISO-certified corporation with strong ties to DCGI products, which we supply to PCD franchisees. Our company's brand name has a lot of confidence and love in the industry because of the high-quality derma products and low prices we provide. By delivering our Derma PCD Franchise in Kota, we are giving Pharma experts the opportunity to start their own firm in a prime location with our assistance. The Aesthetic Sense is a leading franchise firm that recognizes the worth of a business and provides full support and interest to its members in order for them to succeed in the market.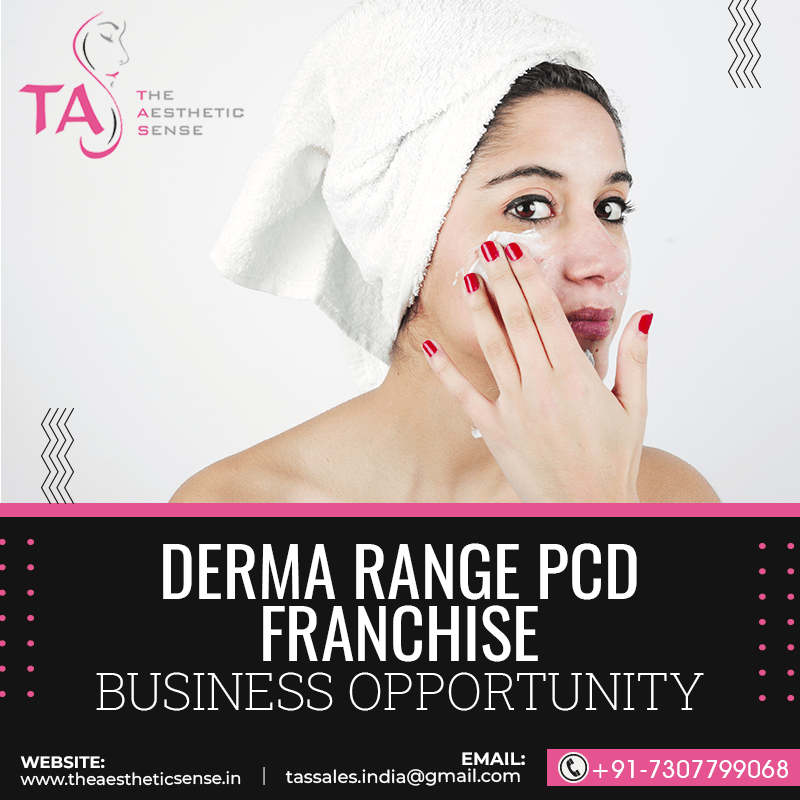 Call us at +91 87270 99068 to speak with one of our marketing specialists, or send us an email at tassales.india@gmail.com to learn more about our dermatology product line.
Highly Dedicated Derma Company for Franchise Business in Kota
As we all know, the pharmaceutical industry is in its early stages, with many segments such as ortho, cardiac, diabetic, neuro, gynecological, and derma. Without a doubt, each segment is in high demand, but dermatology is the most profitable. People suffering from hair loss, eczema, hives, acne, tan, sunburn, rashes, redness, and other skin-related concerns are quickly expanding their use of dermatology goods.
Because there are so many dermatological companies in Kota, customers are unable to locate the proper and high-quality skincare solutions. Our company never compromises on quality and strives to provide the most cost-effective skincare products available. By providing safe and pure cosmetics and derma goods, we have earned the trust of numerous clients, dermatologists, and doctors. Pharma experts can simply start their pharma business in the dermatology domain with minimal expenditures by joining our Derma PCD Franchise in Kota.
We manufacture our drug line by analyzing market demands and providing the most in-demand medications.
Our drugs are incredibly affordable because the entire process takes place in a tax-free zone.
We are continually bringing the latest advancements and better treatments to our patients with the support of our R&D staff.
We have many associates from all across the country working with us.
For cost-effective functioning, we have developed a modern working system on our premises.
Genuine Ranges of Derma Products Offered by the Company in Kota
Aesthetic Sense is known for offering the ideal combination of quality and price, as they offer refined and authentic quality skincare products created using advanced formulation techniques. During the manufacturing of skincare products, our dermatological professionals pay great attention to smell, colors, quality, effectiveness, drug composition balance, and ph balance. Our company guarantees that our products will retain the customer's beauty and restore their healthy skin. Let's have a look at some of the great Derma products available in Kota for PCD Farcnhsie:
| | | | | |
| --- | --- | --- | --- | --- |
| Cream | Soap | Face wash | Hair Beauty | Lotion |
| CLINDAMYCIN, ADAPELENE GEL | ALOE VERA, GLYCERINE, VITAMIN E SOAP | MAGNETIC CHARCOAL FACEWASH | KETOCONAZOLE & ZINC PYRITHLONE ANTI-DANDRUFF TOPICAL SHAMPOO | CALAMINE AND PARAFFIN LOTION |
| FUSIDIC ACID 2.0%, BECLOMETHANE 0.25 % CREAM | ALOE VERA, TEA TREE OIL, VITAMIN E, TRICLOSAN & ALLANTOIN SOAP | PAPAYA FACEWASH | MIRACLE HAIR GROWTH HERBAL OIL | CALAMINE AND PARAFFIN LOTION |
| GLUTATHIONE SKIN WHITENING CREAM | COAL TAR & SALICYLIC ACID SOAP | | ULTRASENCE HERBAL HAIR OIL – 10 IN 1 BIOACTIVE HAIRCARE | LULICONAZOLE LOTION |
Multiple Benefits Served by The Aesthetic Sense to its Associates
Working with The Aesthetic Sense will be a terrific option for any medical expert because our marketing team will assist our partners to reach a bigger audience. All of our business deals are quite reasonable, and they assist our clients in starting their business in their preferred area. The Aesthetic Sense keeps its franchise members up to date on market trends and threads so that they may readily alter and amend their business plans as needed. Joining our Derma PCD Franchise in Kota still comes with a slew of benefits for our franchisees.
Other advantages of being one of our partners include:
Packaging that is both unique and appealing is available.
We have affiliates in every state, so delivery is rather speedy.
Our goods meet all international and national requirements.
Individual warehousing facilities and storage rooms are available.
Marketing and advertising assistance at its finest
Our monopoly Rights are one-of-a-kind.
New goods are released on a regular basis.
Cost Free Marketing Tools Available for the Derma PCD Franchise in Kota
The Aesthetic Sense is the top franchise firm for providing free marketing materials. It is a sort of advertising support that we provide to our partners in order to raise awareness of their Derma Products across the marketplace. Our tools assist in raising public awareness. The best Derma PCD Franchise Company in Kota provides a wide range of promotional tools, including:
MR bags
Gifts like pens, calendars, diaries, and notebooks
Visiting cards
Diaries,
Writing pads,
Brochures
Chemist order book
Visual aid,
Working bags,
Visiting cards,
Small gift articles,
Product cards, etc.
Contact us Today! 
 Tas Derma Pvt.Ltd. 
Address – Pchpl Building, D161A, Phase 7, Industrial Area, Sector 73, Sahibzada Ajit Singh Nagar, Punjab 160055

E-mail:  tassales.india@gmail.com
Phone : +91 87270 99068