Derma PCD Franchise in Kolhapur
Derma PCD Franchise in Kolhapur – The Aesthetic Sense is one of the most popular and trusted Derma and pharmaceutical companies of India also known as the leading Franchise Company. As an ISO-certified company, our company has a dedicated department for all derma care products. In our field, a team of top-class professionals works to provide you with high-quality derma medicine. We operate PCD Pharmaceutical Franchise across India by offering great business opportunities to those Pharma experts who are interested in starting their own venture now we are also offering Derma PCD Franchise in Kolhapur.
The Aesthetic Sense offers opportunities for derma drugs through a Pharma franchise. The company offers a wide variety of formulations of skincare for various purposes. All medicines are made from the highest quality medicines, extracts, and formulations as we know the importance of skin treatment. We, The Aesthetic Sense, are certified with the best GMP quality standards from the best medical institutions like WHO, FSSAI, and FDA. By joining our Derma PCD Franchise in Kolhapur, you can full fill your dream of having your own venture in your prime location.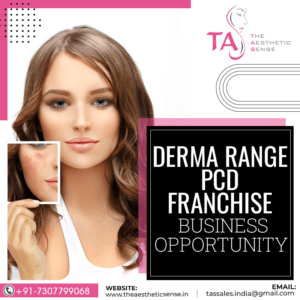 If you want to start a Derma PCD Franchise business in Kolhapur, contact us. To contact us, dial +91 87270 99068 or send an email to tassales.india@gmail.com.
The Aesthetic Sense Don't Compromise On Quality
Our derma Pharma Company is a firm that takes great pride and dedication in the manufacture of skincare medicines with the best formulations. We have GMP and WHO-certified units and facilities. They are located in a duty-free excise zone. We followed Good Manufacturing Practices from the start and vowed to see it through to the end. Our quality control (OC) and quality assurance (QA) measurements have helped us achieve clean formulations. Cleanliness gives equal priority to quality. With 100% germ-free, we strive to keep every machine, every room clean and hygienic.
These all factors make us the best firm to do business with there are many people who have been our partners for a decade now and have been enjoying a successful venture with us. By associating with Derma PCD Franchise in Kolhapur, you can have an excellent venture for yourself and make a top position in the market.
Opportunity to Become Our PCD Pharma Franchise Partner
Derma PCD Franchise in Kolhapur allows you to work freely and without pressure. This sector also has good incentives from the government to respond to the increasing demand for quality products at affordable prices. The PCD Pharma the Aesthetic Sense franchise is a great business opportunity for anyone looking to start their own growing business.
The Aesthetic Sense is a growing firm that is well aware of the market needs thus bringing the derma medicines which are highly in demand by the customers by achieving this factor they can strive the market with the best treatments in the derma range. the company works dedicatedly to help their partners to have a better business in their area.
Reasons to work with us:
All products at reasonable prices.
We provide marketing support for all employees.
The company regularly introduces new, innovative products.
We always keep our employees updated on trends and developments in the pharmaceutical industry.
Well thought out research and development department
Wide Range of Derma Products for Pharma Franchise Business
The skin is one of the most important body organs and the demand for better skin medicines continues to grow. The decline in skin problems rates and the proportional growth of technology has created enormous demand. Market services deal only with skin problems and diseases as the Indian dermatology market is known as the king of the industry.
Our company offers some of the most comprehensive lists of skincare products in India. This includes creams, ointments, powders, and more. The best parts of derma medicines are they all are DCGI and FDA approve products. The Aesthetic Sense franchise offers a guarantee that you have a large area under the control of a monopoly.
Here are the medicines offered in Derma PCD Franchise in Kolhapur:
Oils / Soap  / Tablets / Soft gel / body oil / Creams / Shampoo / Moisturizer / Injectable, etc.
Advanced Technology and Hygienic Packaging Materials Are Used
Derma medications require safe, corrosion-free containers and packaging. Our company has the machines to provide you with pure formulations. They are stored safely in a tightly closed container that will not decompose for a long time once opened. From a marketing point of view, derma medication has an attractive appearance according to patients. Our creative team has put together an attractive yet effective design for each skin remedy.
Experts in Pharma research and development have provided us with a wide range of products. Team members are well-known and respected experts in the pharmaceutical industry. Derma drugs are made in a laboratory with the approval of doctors and researchers. We develop medicines to provide you with better health care and facilities. That's why we ensure that our Derma PCD Franchise in Kolhapur is best for business.
CONTACT US :
 Tas Derma Pvt.Ltd.  
Address  – Pchpl Building, D161A, Phase 7, Industrial Area, Sector 73, Sahibzada Ajit Singh Nagar, Punjab 160055

E-mail:  tassales.india@gmail.com
Phone : +91 87270 99068