Derma PCD Franchise in Kochi
Derma PCD Franchise in Kochi– Due to increased public awareness, the demand for derma products is rising. There are numerous companies and pharma distributors that deal with derma products, but The Aesthetic Sense has not only provided high-quality derma products, but also business chances for people who want to create their own derma company. This company now offers the Derma PCD Franchise in Kochi, as well as a number of other benefits that have been proven to help with business success in the dermatological field. Monopoly rights, advertising tools, and incentives are just a few examples.
The Aesthetic Sense is an ISO-certified company that specializes in treating various skin and hair-related conditions and is currently offering its high-quality skin products to the Derma PCD Franchise in Kochi. The company offers a wide range of DCGI and FSSAI-approved derma products at competitive costs. To match the international standard of the product's quality, the company follows WHO and GMP guidelines. Tablets, capsules, cream, lotion, face wash, and many other derma product lines are available for the Derma franchise company in Kochi. All around Kerala, we provide the best dermatology products and services.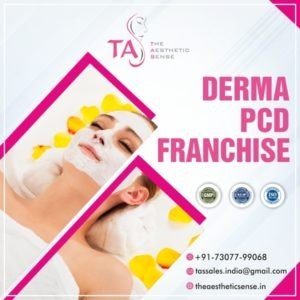 Come to us if you're interested in beginning a Derma PCD Franchise in Kochi. Call +91 87270 99068 or email tassales.india@gmail.com to get in touch with us.
Connect With Best Derma Franchise Company In Kochi
The Aesthetic Sense is here to offer the best quality of dermatology and cosmeceutical products at a reasonable price which completes the customer satisfaction as well. Our company focuses on regular innovations among all the products to eradicate skin and hair problems. The Aesthetic Sense is a well-known Dermatology company for its high-quality skin and hair care ranges and complete franchise support. And here are the reasons why we are the right company for the Derma PCD Franchise in Kochi –
All of the Derma Products will be ISO, GMP, and WHO certified.
Our company adheres to the DCGI unit's international requirements.
The Aesthetic Sense offers a wide range of derma products to offer PCD Franchisees in Kochi.
For the production of the derma range, our business solely uses final quality materials.
The Aesthetic Sense is also known for producing all skin and hair products on a schedule M basis.
In addition, the products we sell in the market are thoroughly researched, and we then offer safe and effective products in response to rising demand.
The Aesthetic Sense additionally ensures that all of its affiliates have a successful business in Kochi.
Quality Derma Products For Franchise Business
Environmental pollution, dust, stress, harsh UV rays, unhealthy food habits, and other issues are among the most prevalent issues that people must deal with on a daily basis. People seek treatment from a variety of dermatologists and cosmetologists. This is why these skin and hair care professionals are so enthusiastic about our exceptional quality derma products. They believe in our derma range because they are manufactured with natural components and extracts that have no negative side effects.
Some of the amazing Haircare and Skincare Ranges are:
Oils
Soap
Tablets
Soft gel
body oil
Creams
Shampoo
Moisturizer
Injectable
Marketing Support Material Offered by The Aesthetic Sense
Promotional tools are vital for promoting sales in any business, and the Derma PCD Franchise in Kochi, like all other enterprises, requires advertising. The Aesthetic Sense provides all of our franchise members with outstanding promotional and marketing tools so that they have no trouble promoting their businesses effectively. A variety of promotional techniques aid in overcoming competition fear, and as a result, our associates bravely fight against the Derma Market's rivalry with our up-to-date promotional support. All of these marketing materials are designed by our experienced marketing researchers and experts. The company grants the following marketing tools:
Brochures
Visual Aid Kit
Visiting Cards
Reminder Cards
Catch Covers
MR Bags
Notepads
Pocket Diaries
Sample Kits
Product Stickers
Postal Envelope
Chemist Order Book, etc.
What Perks you will get after Associating with Derma Company In Kochi?
We have earned the trust of a number of renowned dermatologists and cosmetologists and have established a substantial presence in the Derma Market like the most dependable Derma PCD Franchise in Kochi. The Aesthetic Sense believes in building long-term client relationships, so the company has taken the effort to welcome any serious business searchers with wide open arms to inquire about the Derma PCD Franchise Business opportunity. Because of our transparent and ethical business dealings, a number of our associates are happy to work with us.
Monopoly Rights to its franchise partners
Free Promotional backup
Prompt delivery of the dream products
Excellent quality of the Derma range
Strong and Attractive packaging
CONTACT US :
 Tas Derma Pvt.Ltd. 
Address – Pchpl Building, D161A, Phase 7, Industrial Area, Sector 73, Sahibzada Ajit Singh Nagar, Punjab 160055

E-mail:  tassales.india@gmail.com
Phone : +91 87270 99068