Derma PCD Franchise in Bhubaneswar
Derma PCD Franchise in Bhubaneswar– Are you seeking a firm that can handle all aspects of the derma pharma industry and provide the best franchising opportunities in Bhubaneswar? Or do you want to be a part of top Derma PCD Franchise Company in Bhubaneswar? If so, you've come to the correct place. Isn't it true that Aesthetic Sense is the best dermatology firm offering PCD Franchise opportunities? You can become a franchise associate in this city and help to build the derma pharma industry in a more efficient and effective way.
Pharma professionals contact The Aesthetic Sense right away to learn more about their comprehensive derma variety of superior quality at affordable prices. We are providing PCD Franchise Business services in order to expand our firm in many places of Bhubaneswar. Please contact The Aesthetic Sense if you are interested in expanding your business in the pharma and derma sectors. The company guarantees that you will receive the highest quality dermatology items in a timely and undamaged manner. The company hopes to grow its roots throughout Odisha by creating the Derma PCD Franchise in Bhubaneswar.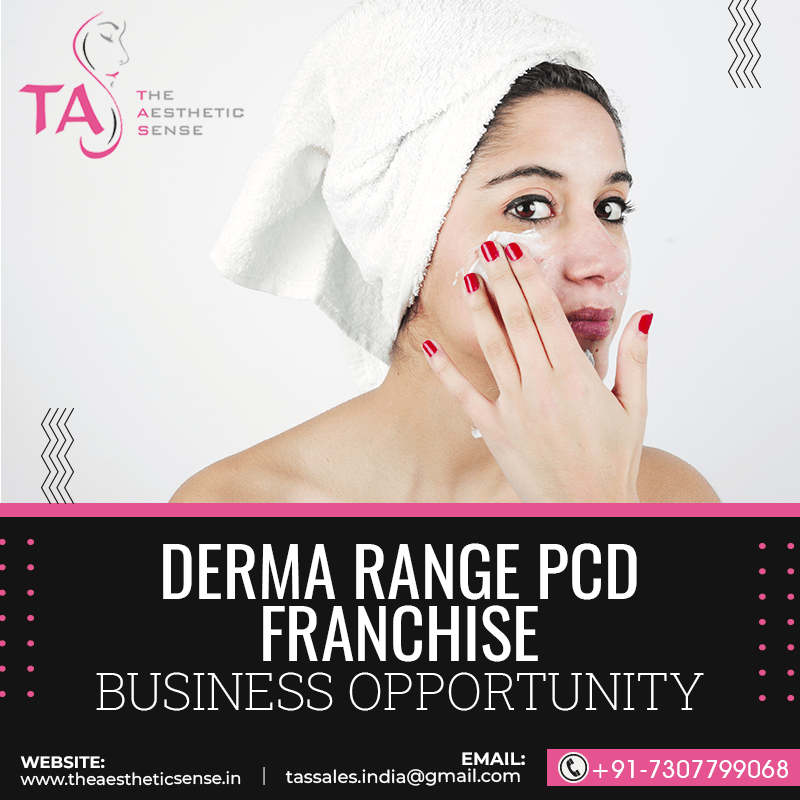 You can reach out to a representative at any time by dialing +91 87270 99068 or sending an email to tassales.india@gmail.com. We have chosen the most trustworthy communication source to serve our consumers by providing services 24 hours a day, seven days a week.
Growing Popularity of the Derma Products for the PCD Franchise
Due to its expanding popularity, there are various advantages to investing in the derma market in India. People's demand for derma products has surged in the last few years. As a result, investing in this area can help you increase your profits or returns. The following are some of the causes for the Derma PCD Franchise's growing popularity:-
This business model takes relatively little capital and is adaptable to the needs of the firm. And thus lowers the likelihood of future losses.
The marketing strategies provided by the franchise company make it possible to work in the derma industry without feeling pressed.
Due to an increase in skin illnesses, pollution, and customer awareness, there is a continual increase in demand for derma goods in Bhubaneswar and other regions of the country.
Derma Pharma franchises offer high-profit margins and a wider selection of derma goods to choose from when starting a business.
So, if you're seeking an investment franchise opportunity in your city and want to work with the leading derma company in the area, contact The Aesthetic Sense right away.
Best Quality Derma Medicine Ranges by The Aesthetic Sense in Bhubaneswar
Derma PCD Franchise is associated with our skin and hair, emphasizing the importance of product quality. If the quality isn't up to par, the consumer may suffer catastrophic consequences. As a result, having original and high-quality derma products is essential. Bhubaneswar residents are also willing to invest in high-quality derma franchise items. The Aesthetic Sense, being a top Derma PCD Franchise in Bhubaneswar offers a wide choice of derma goods at reasonable prices. We manufacture pharmaceutical items in accordance with WHO-GMP guidelines and maintain a high level of quality control. Our company's goal is to assist people in maintaining clear and healthy skin.
Tablets,
Soft gel,
Moisturizer,
Injectable,
Syrups,
Topical gels,
Creams,
Oils,
body oil,
Soap,
Shampoo, etc.
Why Should Consider us For Derma PCD Franchise in Bhubaneswar
The Aesthetic Sense is a derma company in Bhubaneswar that is ISO, WHO, and GMP certified. All of the products we produce are governed by DCGI and FDI guidelines. We have the vision to expand the derma franchise business in every location in Bhubaneswar, thus we provide our colleagues with affordable franchise business options. Along with our derma medications in Bhubaneswar, The Aesthetic Sense also grants all of its franchise partners monopolistic rights over the business. Additionally, our company can provide promotional items like as visiting cards, visual aids, note pads, Mr bags, and other items.
These Franchise Facilities in Bhubaneswar will assist you in the dermatology industry and provide you with a company start-up plan. Please contact us right away!
How can you become our Franchise Associates in Bhubaneswar?
The Aesthetic Sense is the leading derma company in India as it has some requirements and procedures to get into the Derma PCD Franchise in Bhubaneswar. Ass we all know that the derma segment is the fastest-growing segment in India as people become more conscious about their skin and beauty. So all the derma companies try to use the safe and effective drug range to formulate the best quality Skincare ranges thus the company needs the experience and reliable person who has all the required and legal documents for working with our company. These documents are:
TiN number
PAN number
Drug licenses
GST number
Bank account  number
CONTACT US :
 Tas Derma Pvt.Ltd. 
Address – Pchpl Building, D161A, Phase 7, Industrial Area, Sector 73, Sahibzada Ajit Singh Nagar, Punjab 160055

E-mail:  tassales.india@gmail.com
Phone : +91 87270 99068