Derma PCD Franchise in Andhra Pradesh 
The Aesthetic Sense is amongst one of the leading Derma PCD Franchises in Andhra Pradesh that delivers a class derma medicines range. We make sure our quality medicine helps our customers and they can treat and heal healthy skin. This helps them to have a better quality of life and maintain healthy skin as well. We are slowly and actively investing in research and development, incorporating new products that improve the skin. The company delivers products that cover almost the entire derma segment. You can check all of our products and services that we offer.
Aesthetic Sense is an ISO-certified company with its products licensed from DCGI & FSSAI. We also have world-class state of art manufacturing units that are licensed from WHO& GMP. Those who want to be our partner and start their own business can choose our services for their business. This is an excellent business option that allows all individuals to access the PCD Derma business. The demanding requirements of skincare products and customer promotion will help you to have a good reputation and can be easily established for your business position in an expensive competitive market. Thus, start your business with the best Derma PCD Franchise in Andhra Pradesh.
If you want to experience working in a top-level organization like Aesthetic Sense we welcome you to join hands with us and with dedication and commitment we assure you to reach groundbreaking heights in the Derma PCD business. Currently, we are offering Derma PCD Franchise in Andhra Pradesh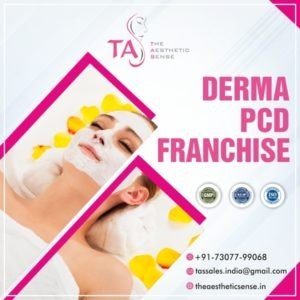 Interested individuals can contact us at- +91-87270 99068 otherwise you can also mail us at- tassales.india@gmail.com
Aesthetic Sense – Top Derma PCD Franchise in Andhra Pradesh
With years in progress, we know there is numerous Derma franchise who claim to be the best and manufacture world-class products under esteem organizations but what separates us from this is our commitment to our customers. As our products are prescribed by most of the medical professionals and chemists in markets and hospitals we also provide them at affordable rates so every individual can buy our products. We want our products to be everybody's No 1 choice for skincare health.
Apart from that, we have world-class experts who have years of experience and vast knowledge in Dermatology and they have been manufacturing derma products for many years. To make sure we keep our products updated we have our R&D team, who works 24*7 to make sure that all of the manufactured products maintain the standard of our company and we always keep everything intact. We aim to provide much of our high-quality product to every region of the country and give people a better and flourished skin.
Targeted Locations for Derma PCD Franchise in Andhra Pradesh
With a state like Andhra Pradesh where high technologies have been used in medical infrastructure and livelihood is sophisticated, it presents a lot of opportunities for Derma PCD Franchises. With a population of around 5.44 crores in 2021, it can be a hub for Dermatology with growing demands for skincare products, one could hardly argue about the future of the pharma industry in Andhra Pradesh.
Now let us show you vacant locations we have targeted for Derma PCD Franchise:-
Anantapur
East Godavari
Guntur
Kurnool
Visakhapatnam
Vizianagaram
Nellore
West Godavari
So individuals who are nearby these locations have great opportunities to present themselves and have an association with top Derma companies.
Wide Range of Products offered by Aesthetic Sense in Andhra Pradesh
Aesthetic Sense is a new Derma firm that has progressed so fast in this Derma Franchise business, we have over 150+ associates across PAN India. We provide an effective range of products that cure fungal infection, acne, sunburn, hair loss, seborrhea, eczema, etc. Aesthetic Sense has incorporated an extensive range of products which deals in:-
Cream:-

Clinclotas A Gel
Furo Sense
Hydra-sense
Ketcotas cream

Tablets

Azprotas 250
Betasense-16 Tab
Clinclotas-C cap
Flucitas-200 Tab

Soaps

Aloe Sense Soap
Ketcotas Soap
Permi-Sense Soap

Lotions

Callyrium Body Lotion
Lucosense Lotion
Terbo Sense Lotion

Capsules

Isrtotas-10 Cap
Itotas-100

Facewash

Frupaya Facewash
Mesmicoal Charcoal Facewash

Hair Beauty
Key Benefits of associating with Aesthetic Sense in Andhra Pradesh
Our company is known for its unmatchable quality of products and results. We have maintained a standard for ourselves as one of the top Derma Franchises in Andhra Pradesh we thrive to add more PCD Franchise so that we can distribute our products in more regions and people could buy our products at affordable prices.
Now let us discuss some of the benefits our associates get In the Derma PCD franchise:-
Unique Monopoly based Derma PCD Franchise
The quality management team and inspection team to ensure the quality of our products
100% satisfaction of customers and positive feedback for our products
The best Packaging material used for packing
Free marketing and promotional tools for growth in business
A wide range of derma products are offered
Contact Information:-
Name:- Aesthetic Sense
Address:- SCO- 34,35, 1st Floor, New Sunny Enclave, Sector- 125, Greater Mohali (Punjab), PIN- 140301
Contact No:- +91-8727099068
E-Mail:- tassales.india@gmail.com