Derma PCD Franchise in Ahmedabad
 When it comes to dermatology products, Aesthetic Sense is the first name that strikes the mind. The Aesthetic Sense is an ISO-certified company that has established a high-ranking benchmark in the pharmaceutical sector by manufacturing the highest-quality Derma products in accordance with WHO requirements. With regular use of our derma products our clients are so satisfied, and we have become a leading derma franchise in Ahmedabad, which wishes to help people regain their natural and bright skin. Our firm recognizes the value of hard-earned money, which is why, with the aid of our Derma PCD Franchise in Ahmedabad, we offer a cheap selection of derma goods to our consumers.
Because the company deals with over 100 different skincare products, our associates have a lot of options when it comes to choosing a Derma PCD Franchise. Our company recognizes the importance of both quality and pricing in the skincare industry, which is why we offer DGCI-approved Derma products at very reasonable prices to our consumers and clients. We ensure that the best and most natural raw components are used in our goods. The effectiveness, purity, side effects, pH value, and consistency of our derma range products are all evaluated. Derma PCD Franchise in Ahmedabad is now part of our company expansion.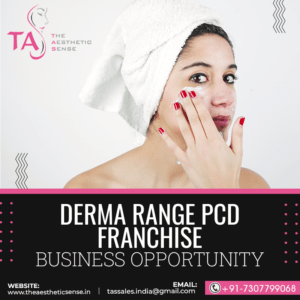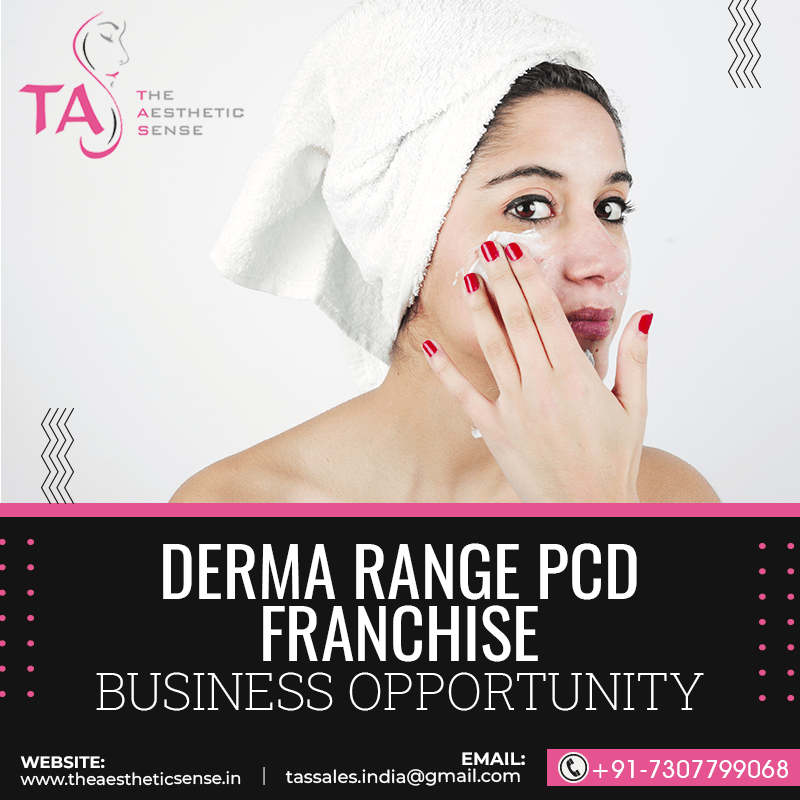 Monopoly Rights are offered by the Aesthetic Sense. Thus if you are interested in the Sole Distributorship Opportunity then call and mail us at  +91 87270 99068, tassales.india@gmail.com.
Scope of Starting a Dermatology Franchise Business
If you ever thought of starting your own pharma franchise business then the skincare market offers the best evolution in the market. It has a growing scope that will help you expand your current business. Even if it is a startup plan, the derma drug market offers better growth opportunities in Ahmedabad. It is a pharma hub for major companies that are located here and operate all around the world. Pharma franchise offers great business plans where you get affordable, risk-free, and better opportunities. In the dermatology market, it grew 17.5 CAGR over the period and many people with various diseases acne, sunburn, tan, allergies, etc, are concerned that many prefer to buy skincare products and medicines.
What Makes Our Company "Best Company for Derma PCD Franchise in Ahmedabad
Aesthetic Sense is the best brand in terms of quality and reliability. We are a traditional pharmaceutical company that deals only with Derma medicines. We are renowned for the purity and productivity of pharmaceutical Derma products. The company is an ideal choice for all business associates to invest valuable money for better treatment of their patients. Today, the company provides safe, high-quality products and contributes to improving the health community. We operate on several principles such as service, integrity, quality, customer satisfaction, and innovation. The benefits of registering with Derma PCD Franchise Company in Ahmedabad include:
Customer satisfaction is the company's primary goal.
We have hired skilled and experienced professionals who ensure the optimum results of the derma products.
Hygiene is maintained at the company and its manufacturing operations.
Because of the best packing style, the product has a longer shelf life.
Genuine Range of Skincare Products For the Derma Business
The Aesthetic Sense is solely dedicated to providing high-quality derma products that heal and nurture the skin. A wide range of DCGI and FSSAI-approved derma goods are all available under one roof at affordable pricing. We strive to offer our high-quality items at affordable costs so that everyone can benefit from them. The company seeks to meet all quality standards in order to provide effective solutions to a variety of skin problems. You can find all skincare medicines for the Derma PCD Franchise in Ahmedabad.
Face Wash
Aloe vera Soap
Anti Allergic Tablets
Vitamin Capsules
Herbal Haircare
Sun Expert Lotion
Herbal Oil
Anti Dandruff Shampoo
Collaborate with Aesthetic Sense for the Good Revenues and Many Benefits
We already know the fairly high Derma Range market scenario. The market is also expected to grow further by the end of 2021. Investing in Derma PCD Franchise in Ahmedabad is a profitable transaction as it guarantees profitable results. Below are some of the main benefits of investing in this drug.
The success rate is higher than that of Dama franchise start-ups.
A franchise business will lower the cost of starting your own business.
Derma Franchise has a reputation and image-proven management and work practices, many of which provide ongoing support to access national advertising.
Regular free promotional and marketing inputs for business ads. Because it is based on the
monopoly, there is little competition in the market.
There are no administrator installation fees or additional personnel charges.
Contact Us Now:
Name- The Aesthetic Sense
Phone no- 87270 99068
Email ID- tassales.india@gmail.com
Address: SCO- 34,35, 1st Floor, New Sunny Enclave, Sector- 125, Greater Mohali (Punjab), PIN- 140301