Top Derma Franchise Company in Pune 
Skincare problems are rising rapidly because of many environmental changes in daily life. The main reason for the increasing problems includes both aspects i.e. an unhealthy lifestyle as well as environmental problems. If you looking to start your own PCD franchise in skincare then our company being the Top Derma Franchise Company in Pune is here to help you.
The Aesthetic Sense being an ISO-certified company understands the need for a high-quality derma range and provides its clients with the Derma PCD franchise as well. By continuously providing their top quality they have set their name in the market by being the Top Derma Franchise Company in Pune. Now the company is also welcoming all the new entrepreneurs to join their growing firm to start their careers.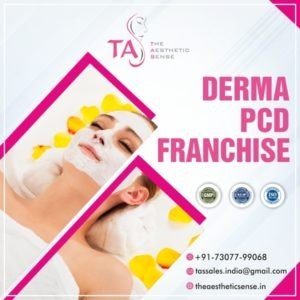 For more guidance and information regarding Derma products or business opportunities, you can contact a representative anytime at +91 87270 99068 or you can write to us at tassales.india@gmail.com.we have opted for the most reliable communication source to assist our customers by providing them 24 by 7 services.
Top Derma Franchise Company – The Aesthetic Sense
The Aesthetic Sense has a most sophisticated infrastructure unit at premises, which is fully integrated with the high tech machinery and cutting edge technology. Our infrastructure unit is the pride of our company. As helps us in meeting the stock availability requirement of our customers and provides them with the regular supply of derma products and ensures the smooth execution of the business. Some of the highlights of our Top Derma Franchise Company in Pune are as follows:
All the products are manufactured under GMP-certified manufacturing units.
All the deliveries are done on time with quality packaging to ensure product quality.
All the derma range is approved by DGCI certification.
The research and development team regularly update about markets Trend.
We have a skilled and special team that works on the latest innovations to offer.
We regularly check and upgrade our manufacturing unit with the support of our R&D department. They keep their intense eyes on each newly developed manufacturing plant and introduced them to our company
Product Range Offered for Derma Franchise
The Aesthetic Sense is providing a huge Derma product range that is manufactured under WHO and GMP guidelines. We have an effective range of skin ailments like a pimple, fungal infection, eczema, psoriasis, sunburn, hair loss, seborrhea, etc. our company aims to provide a healthy life by delivering good Derma products to our customers at very affordable rates. Our product stands for purity, protection, good quality of skincare, and hair care products. Some of the product range that we provide you is,
Creams
Ointments
Lotions
Shampoos
Moisturizers
Serums
Soaps
Got gel
Capsules
Tables
Spray, etc.
The Aesthetic Sense for Derma PCD Pharma Franchise
Aesthetic Sense follows the richest culture of manufacturing by using WHO-GMP guidelines for Derma products that make us the Top Derma Franchise Company in Pune. The best thing about our company, we utilized medically tested components and chemical extracts to ensure that our customers are getting the quality derma range. We never compromise with the quality of our derma range, which is the key success of our company. Since starting, we have been focusing on expanding our services all over the nation by providing Derma PCD Pharma Franchise. Some of the highlights of our company for our partners are as follows:
Monopoly rights to reduce market competition.
Promotional tools to help in advertising your business.
Marketing strategy to grow your business in your location.
Variety of products to ensure the demand of your customers.
Certified documents and products to avoid future mishaps.
Target Places for Derma PCD Pharma Franchise
The demand for better and quality derma range is at the peak in the market. So investing in one of the rising industries is really a profitable decision but working with the right company for your business is even a better decision. The economic growth of Pune is very impressive which shows the growth of any business will be marvelous here but the healthcare department holds more scope here. As the government of India is investing a good amount of money to encourage people to come forward and participate in better healthcare programs. Now we being the Top Derma Franchise Company in Pune are also welcoming every pharma professional to come and be a part of our company people living near or in Pune can join us. Some of the top locations we want to deal with are:
Haveli taluka
Pune City taluka
PCMC Taluka
Our company is taking leads in the industry and providing the regular supply of derma medicine that makes it the first choice of many clients. We have all the facility which helps make our product range quality approved.
Contact us
The Aesthetic Sense
Phone no- 87270 99068
Email ID- tassales.india@gmail.com