Derma PCD Franchise in Srinagar
Skincare products have huge demand in this existing time and people are showing more interest towards the usage of the derma products as compared to past two decades. Various derma companies are providing a franchise business in dermatology. However, The Aesthetic Sense is a specialist in dealing with derma products and giving an opportunity to open an own Derma PCD Franchise in Srinagar. This company is already delivering premium products in many parts of India.
Furthermore, The Aesthetic Sense comes on the list of the top derma franchise company in India. The Best Derma PCD Franchise in Srinagar brings tremendous development to the market because our company provides the best quality and genuine products. We are ISO certified and playing a vital role in the derma industry. We ensure our clients, we will satisfy them in each term whether it is product or service.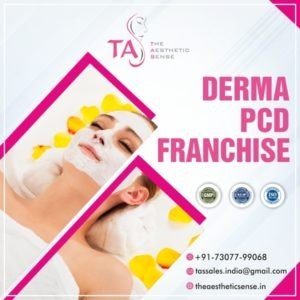 Collaborate with us to walk on a path to curing skin issues. Call us at +91 87270 99068 or you can drop a message by email at tassales.india@gmail.com.We will guide best from our end.
Rising Demand Of Derma Franchise Business
The skin products industry has been booming at a brisk pace for the last couple of decades. People never compromise with any kind of skin issue everyone wants to look fair and fine. They prefer better quality products for their skin and for that they spend a lot, but then also they not get suitable products which can cure their skin issue.  Currently, in India, the dermatology market is rising with an 8.2% CAGR rate and predicted to reach USD 21.5 billion in 2021. Commonly, people are facing several types of skin issues such as.
eczema.

psoriasis.

acne.

rosacea.

ichthyosis.

vitiligo.

hives.

seborrheic dermatitis.
These skin problems are common and caused by, harmful UV rays, pollution releases from traffic and industries, and climatic changes. Srinagar will become the fruitful business destination for derma.
Collaborate With The Top Derma Franchise Company
Being a reputed image in the industry we want the skin issues should be removed. We aim to give fair and naturally glowing skin to the people, for that we are introducing our best quality products in the market. Our continuous work on innovating the product has been maintaining our goodwill since we established. The credit of our success goes to our skilled employees, who are emphasizing to make our product and services better. In addition to this, our company has many other key qualities that make us a top derma franchise company.
Below mentioned points are highlighted key qualities
Our clients will get financial assistant before getting our franchise. Our financial advisor will assist them regarding any kind of monetary help.

Our sales officers have unique sales strategies which they make by studying deeply.

All units are equipped with high technology machinery which is able to manufacture premium quality products.

The Aesthetic Sense gives 100% customer satisfaction so that we can add more clients with us.

We are running our company according to the rule and regulations by WHO and GMP.
Effective Derma Products For Franchise Business In Srinagar
Our main motive is to provide a variety of derma range to our clients. We do not want that our client goes to someone else to get all types of derma products to complete the demand of the public. So, The Aesthetic Sense has all sorts of demanded skin items and all are DCGI and FSSAI approved. We give more preference to making the product better in terms of effectiveness rather than boosting the sales of the product. Our product is the main preference of pharma line experts such as doctors, hospitals, pharmacists, and chemist shops.
Here are some major products in which we deal
Derma Creams

Oil

Ointments

Dermatology powder

Tablets

Capsules

Injections

Syrup

Shampoo

Lotions and many more
Benefits Of Collaborating With The Aesthetic Sense
Many derma companies are dealing with derma products but few are providing genuine products. Working with that company that is especially dealing in skin products, is very crucial in the dermatology market for getting every kind of support and perks for high growth. The Aesthetic Sense is one of those companies on which people trust immediately because of providing amazing benefits with the services and reliable skin products.
Low investment- All franchise plans are available at a very reasonable price or the client does not have to invest a huge amount to get products. We do not want to put any kind of financial pressure on our clients.
Promotional tools- We provide promotional tools to promote the company like brand labeled pen, notepad, billing book, and MR beg which are used for advertisement.
Monopoly rights- We offer franchises on a monopoly basis which means we do not provide the same franchise to another client. It helps to reduce the competition.
Best logistics services- Logistics department always dispatch the product and deliver it to the destination at a given time. We value our client's time.
We are inviting our upcoming clients who are seeking Top Derma PCD Pharma Franchise in Srinagar and want to enjoy this business journey with us.
Link With Us Today 
The Aesthetic Sense
Phone no- 87270 99068
Email ID- tassales.india@gmail.com