Derma PCD Franchise in Ludhiana
  The Aesthetic sense is a prominent name in the dermatology market. These days every individual wants fair and glowing skin and use several types of skin products. Many derma companies have arisen in the market in the past decade but few of them are providing genuine products. The  Aesthetic sense has made a reputable image in the market and deals in all kinds of genuine derma products through the derma franchise. Currently, being a reputed image we are expanding our business and going to distribute our Derma PCD Franchise in Ludhiana.
The aesthetic sense believes in making society free from skin issues that people are facing. We are an ISO-certified company and working under the rule and regulations given by WHO and GMP. Our superior quality products are playing a crucial role in the derma market. As we have seen the rising in the number of skin problems then we have decided to expand our services in other parts of the nation. Recently, we have nominated as a Top Derma PCD Franchise in Ludhiana.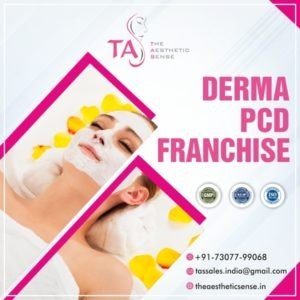 To become a partner of our company contact us today at this number,+91 87270 99068. You can drop a message at our email, tassales.india@gmail.com.
Scope Of Investing In The Derma Franchise Business
If we talk about the current scenario of the dermatology market then it worth around $ 36.82 billion in 2019 and is expected to reach USD 63.99 billion by 2027, exhibiting a CAGR of 12.9%. It is global worth of dermatology although it is a booming industry and has a good scope of success. Furthermore, in India In the past two decades, the derma market has increased by around 4.5% per year on average (CAGR). The current market size of the Dermatology segments is roughly Rs. 1950 crores, growing rapidly at about 11% CAGR.
In India, every third person is suffering from minor to major skin problem. Due to high pollution releases from vehicles and factories, absorbs in the skin and makes the skin worst. That is why people are demanding the best quality products that can protect their skin in a better way.
Some major skin issues faced by our society
Acne 

Atopic dermatitis 

Shingles

Hives (Urticaria) 

Sunburn

Contact Dermatitis

Diaper Rash

Rosacea.
These issues are common in India and increasing steadily. 
Features That Define Our Excellence In The Dermatology  Market
Sometimes the condition of the skin gets worst which leads to people get into depression and anxiety. Our effective products are working so as to prevent them from reaching this stage and provide people with healthy skin. We are sure our company is the right place to invest in it and our clients will be satisfied with our services. We are known for many reasons but here is some highlighted key quality of our company.
Our manufacturing plants are enabled with advanced machinery which are capable to manufacture the bulk of the products.

The R&D department works on new products and they update the product list by adding some latest and effective products in the market.

All staff is professional and well qualified in their field. They work very systematically to give perfect structure to the company.

The Aesthetic sense work on to give 100% customer satisfaction so that they will continue with us.

We provide safe delivery on a given destination if our transport department is delivering the order.
Extensive Range Of Product Provided By Top Derma Company
The aesthetic sense has the motive to bring fair and healthy skin, for that they are working with lots of dedication. Basically, our all products are approved by government-appointed departments such as DCGI and FSSAI. The Supply chain manager takes care of all the production chain and makes the production line systematic in order to give perfection to the products. We have manufactured the skin items after going through deep research on skin issues facing our society.
We manufactured these forms of product for different skin purposes
Derma Creams

Oil

Ointments

Dermatology powder

Tablets

Capsules

Injections

Syrup

Shampoo

Lotions 
Lucrative Derma Franchise Business Offered By The Aesthetic Sense
Well, when it comes to the top derma companies in India then the aesthetic sense is highlighted among them. The Aesthetic sense is a company on which people trust easily due to popularity of the products which makes our company well known to all. We are serving our society with keep in mind to give them fair and healthy skin. Our already associated clients are contributing with us in curing the skin issues in our society. The Aesthetic Sense always gives the best to satisfy the clients by providing them fruitful services. They are the main reason behind our success in the market.
Some Highlighted Benefits Which Are Giving By Our Company To The Associate Partners
Imposing unique strategies- For our Derma PCD  Franchise, our marketing department assists our clients with unique marketing strategies. It reduces the challenges in the market.
Monopoly based franchise- We provide full monopoly rights to our clients so that they can run the competition-free business and get success in the career.
24*7 customer support- Our customer care department always ready to help our clients and support them during dealing with further customers.
Logistics services- This department is very responsible, dispatch the product at a given time and deliver it to the destination.
We are looking our upcoming clients in you and excited to work with you. Contact us today for more information.
Reach to us :
The Aesthetic Sense
Phone no- 87270 99068
Email ID- tassales.india@gmail.com