Derma PCD Franchise in Hyderabad
Dermatology is one of the most popular and sought-after pharmaceutical areas in India. Aesthetic Sense is Hyderabad's leading derma brand, providing the ideal chance for anyone willing to invest their money and effort in a pharma firm. We are a reputable company that provides a wide range of derma products to our valued consumers. Our company guarantees that our medicines will benefit our customers and that they will be able to effortlessly maintain and regain good skin. It is our job as an ISO-certified company to supply the highest quality derma goods and medicines and Derma PCD Franchise in Hyderabad.
Slowly and methodically, Aesthetic Sense is investing significant time and resources in research and development so that customers can benefit from unique and significantly improved skincare products. We are so strict about quality standards and hygiene because we left the few chances of any negative side effects. Our high-quality Derma line is also available in our product area. You can look at all of the medicines and items that we have available. Our skincare products have won the hearts of our clients, and we have become the top Derma PCD Franchise in Hyderabad, thanks to the approval of DCGI, GMP, and WHO certification.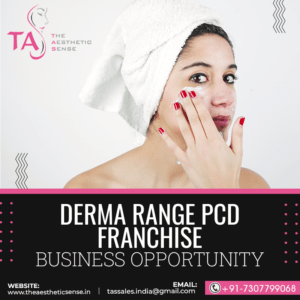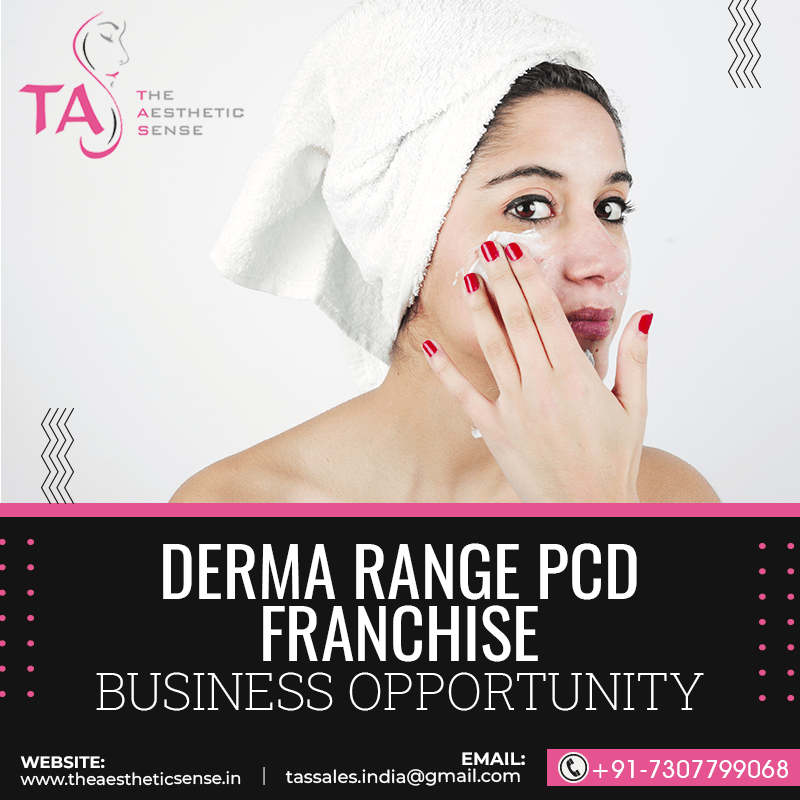 Call us at +91 87270 99068 to talk with one of our marketing specialists, or send us an email at tassales.india@gmail.com to learn more about our dermatology product line and exclusive Derma PCD Franchise Business in Hyderabad.
Dermatology is the Booming Segment in Pharmaceutical Industry
The cosmetology sector is rapidly developing as more people adopt a skincare regimen, resulting in increased demand for dermatology drugs and products in India. Hyderabad is the beautiful city of Telangana and having developed growth in the economy. Several healthcare clinics and healthcare institutes in the state are highlighting the importance of pharmaceuticals. Many pharmaceutical businesses have begun to build up their manufacturing facilities and PCD Franchise Business opportunity in India. Those who want to invest in the pharmaceutical sector in Hyderabad could take advantage of this chance and make good revenue. Pharmaceutical products will always be in demand, so put your money and time into them to reap the benefits.
DCGI Approved Range of Skincare Products for the Franchise Business in Ghaziabad
We give effective, creative skincare solutions in the hopes of meeting the needs and expectations of our clients. Our Dermatology products are very safe that our customers praised about them. We spend good money on our R&D department, Quality department, Dermatologist department, and manufacturing department so our products can rule the dermatology market through their quality and effectiveness. The company tries to meet all the quality standards to provide effective solutions to various skin issues. You can check out all kinds of Skincare Medicines for the PCD Franchise Business in Hyderabad.
Herbal Haircare
Sun Expert Lotion
Herbal Oil
Anti Dandruff Shampoo
Face Wash
Aloe vera Soap
Anti Allergic Tablets
Vitamin Capsules
Flexible Business Deals for the Long Run Dermatology Medicines Business
People that want to work with us and start their own independent business can use our services in Hyderabad. The investment plan in Derma PCD Franchise in Hyderabad is so amazing that you only need a few amounts for the cash, which reduces the risk component. In addition, the company is always there to support and encourage its franchise partners to succeed in the pharmaceutical industry. Because we believe in complete transparency, we provide ethical and adaptable business deals in your area. Our organization provides the greatest possible support to its franchise partners so that they can continue to cooperate with us in the future. For the long term partnership the company provides:
A high-quality Skincare range that provides 100% customer satisfaction at affordable prices
We have a wide range of Derma Range where you have the multiple-choice option.
The company believes that time is the most important factor in the business so give the prompt delivery of the products
We provide the best support to our franchise partners so that they can establish a strong presence in the Hyderabad market.
Benefits of Joining Hands with top Derma PCD Franchise in Hyderabad
The Aesthetic Sense is one of India's premier dermatology firms. We provide an exclusive assortment of skincare solutions with a 100% satisfaction guarantee. We manufacture DCGI and FSSAI authorized derma products that are affordable to everyone, thus we take proper care of quality and affordability for the skincare range. The ongoing demand for skincare solutions in Hyderabad has enticed numerous pharma professionals to open a Derma PCD Franchise in Hyderabad. Our business employs unique marketing methods that assist us in generating high-income returns.
Monopoly rights with a wide area to conduct business without any interferences
Cost-free promotional tools that  are specially designed by the marketing experts
Full support of the company so we never feel alone in the market
Our partners will get a good incentive after finishing the monthly sales target.
Contact Us Now:
Name- The Aesthetic Sense
Phone no- 87270 99068
Email ID- tassales.india@gmail.com
Address: SCO- 34,35, 1st Floor, New Sunny Enclave, Sector- 125, Greater Mohali (Punjab), PIN- 140301