Derma PCD Franchise in Bangalore
In this era the dermatologist and skincare experts have taken over the pharma industry by offering unbeatable derma range in the market. Skincare products have a huge demand in the existing time because of the increase in skin infections, skin cancer, eczemas, etc. Several derma companies are offering their franchise services. But for a successful franchise business venture, it is quite necessary to collab with the right company. Therefore, The Aesthetic Sense is here to bring for you a profitable Derma PCD Franchise in Bangalore. The company is offering an effective and innovative range of derma products in Pan India.
Bangalore being the capital state of Karnataka holds a huge scope of bright future for its members. The residence here is highly consuming derma products and medicines for their better skincare health. To offer the best services to the customers and business seekers, we have come up with the Derma PCD Franchise in Bangalore. The Aesthetic Sense is an ISO certified company and thus all our production takes place under international certified units. The company strictly follows all the norms and guidelines laid down by the Indian Medical Association. Our range of derma products is excellent for several skin disorders such as sunburn, redness, itching, psoriasis, acne, scars, dark spots, etc.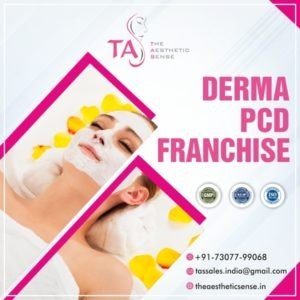 To know more about our vast range of quality derma range or for more information on our opportunities in PAN India, reach out to us at any time. You may call us on +91 87270 99068 or you can write to us at tassales.india@gmail.com.we have opted for the most reliable communication source to assist our customers by providing them 24 by 7 services.
Rising Opportunity in Derma Franchise Business
The Dermatology products market has been booming at a fast pace over the years. Due to the reasons like pollution, harmful UV rays of the Sun, and the depreciating quality of water in India, the demand for these medicines has increased as people are desiring for clean and clear skin. Investing in one of the leading Pharma Franchise in Bangalore will be a lucrative business opportunity.
Some of the top reasons to invest in this market also count as:
In the line of healthcare, the derma segment is the new king of the market as derma holds the first position in the most asked drug range.
The Derma Pharmaceutical Industry has been rising with a CAGR of about 7.73%.
The derma segment is predicted to reach above $33.7 billion in 2022.
Bangalore being the fruitful business state holds a huge scope in Derma PCD Franchise.
We are welcoming all the pharma professionals including wholesalers, stockiest, retailers, etc who want to start their own venture. With the help of our logical team, we make sure to provide the products in all the areas that are covered by us. A highly trained team of experts is working with us, who supervises the quality of every product at the time of manufacturing.
Collaborate with the Aesthetic Sense for Derma PCD Franchise Business
The Aesthetic Sense is known for its best deluxe product range and on-time delivery service. Our company is offering DCGI approved products in the market. By offering a wide range of derma care solutions, we want to help people to have natural and glowing skin. Our medicines and drugs are highly satisfactory, which further helps you to have a successful business.
Some of the main features of our firm are:
Unique monopoly rights for Derma Products in Bangalore or Pan India.
Quality product manufacturing under certified guidelines to ensure the derma range quality.
100% of customer satisfaction from our end.
Free Marketing & Promotional tools for business growth.
On-time delivery service is offered.
Quality packaging of ALU-ALU.
A variety of derma range is offered.
Effective Derma Range for Franchise in Bangalore
Working with the right derma company is very important in the pharmaceutical market, as the company helps in getting easy marketing support and other benefits for the growth of the business. The Aesthetic Sense is one such company that gives you business benefits and an exclusive range of derma products with the best quality. The products we manufacture are done under the guidance of WHO-GMP norms. Our whole manufacturing range of drugs goes through several quality checks. We aim for offering products that can help in treating skin and hair related problems such as Skin allergies, infections, burns, acne issues, dryness problems, hair fall, itchy & dry scalp, etc.
Some of the top derma range available with us is:
Derma Creams
Oil
Ointments
Dermatology powder
Tablets
Capsules
Injections
Syrup
Shampoo
Lotions and many more
Primary Locations for Derma Pharma Franchise in Bangalore
We are looking forward to expanding our derma business in all the locations of Bangalore. Derma pharma franchise venture holds a great scope in future for the pharma professionals. Thus, we are trying to expand our services in all parts of India. Invest in our monopoly based Derma PCD franchise in Bangalore and other regions of Karnataka and have great exposure in your business.
Vacant places for derma places are:
Bangalore Rural
Chikkaballapur
Chitradurga
Davanagere
Kolar
Ramanagara
Tumakuru
If you are thinking to start your own Derma PCD Pharma franchise in Bangalore or Karnataka then we are willing to help you by offering our best services. We will offer you all the marketing support with the top class derma range for your business.
Contact us
The Aesthetic Sense
Phone no- 87270 99068
Email ID- tassales.india@gmail.com