Derma PCD Franchise in Aurangabad
 The Aesthetic Sense is a renowned name in the industry of dermatology pharmaceuticals range. Our quality skincare products are the High-rank benchmark of the company as we formulate derma products to keep the requirement of the customers. Aesthetic Sense is an ISO-certified company and works according to the parameters of quality measurements in Aurangabad. Most people demanding for the supreme quality of skincare solutions at possible prices. We are famous for our eco-friendly and pocket-friendly derma range and that is the reason our brand is the highly recommended brand name in the market of Aurangabad. We are also doing a great job through our impressive Derma PCD Franchise in Aurangabad.
Aesthetic sense is popular for its unique drug formulations, advanced techniques, and experienced staff members. Our company has achieved many awards for our high quality and effective derma products. We have a DCGI approved drug range and GMP and WHO-approved manufacturing plants. Our company provides more than 100+ dermatology products in the market and our highly skilled team also working the upcoming skincare product range. Best team of research and development experts who strive hard to introduce new and innovative derma products in the market of Aurngabad. That is why offer monopoly based franchise business opportunity in Aurangabad so that we can expand the reach of skincare product in that city. So join hands with the best Derma PCD Franchise in Aurangabad.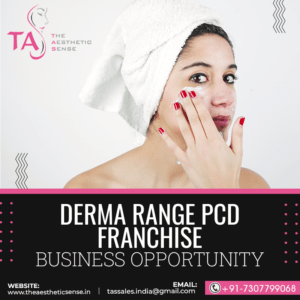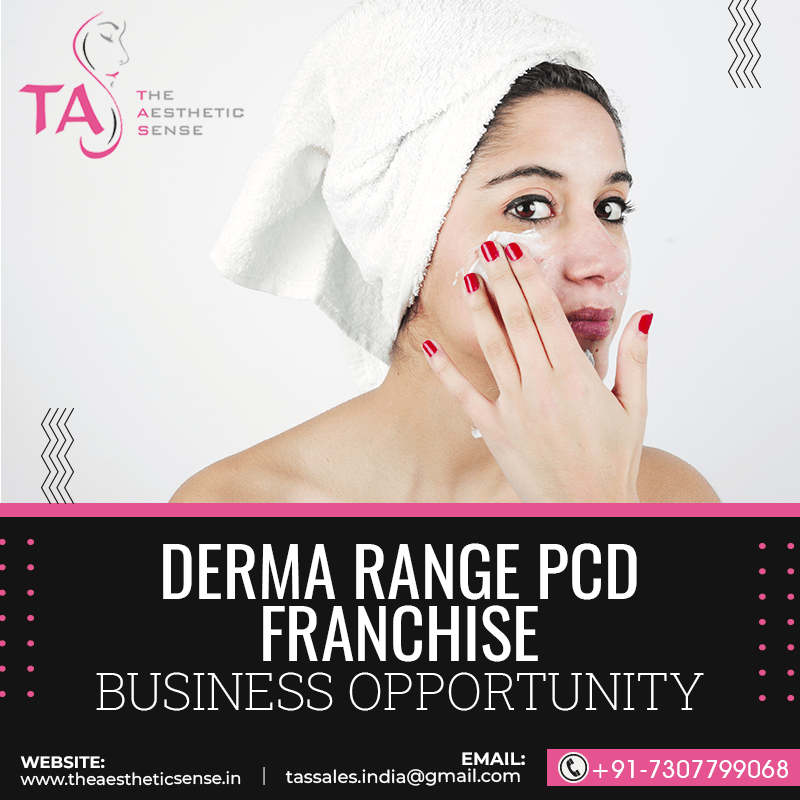 For information about our monopoly-based Dermatology PCD Franchise Business interested people can contact us at +91 87270 99068 or they can write us an email at tassales.india@gmail.com.
Increasing Demand For Derma Franchise Business in Aurangabad
Aurangabad is the city of Maharashtra in India and lots of dermatology companies planning to invest in that city as there is a tremendous demand for quality skincare products. At some time they worry about the cost of starting a Derma Company, relocating to one another city to obtain quality dermatology products and medicines. Thus Aesthetic Sense is opening doors of derma PCD Franchise Company in Aurangabad so the many talented pharma professional can start their own venture in the Dermatology range and fulfill the requirements of the market. Due to the lack of quality dermatology supplies, Aurangabad is the best option for those derma companies that are capable to provide quality skincare solutions at affordable rates. With the aim of serving a safe and effective derma range at a pocket-friendly budget. Our company is providing the best skincare solutions as well as employment solutions to the people of Aurangabad.
Find The Quality Range of Dermatology Products for Derma PCD Franchise
As we observe that people are not demanding the derma solutions just for their skin-related problems but also according to their type of skin. So here at Aesthetic Sense, we are offering dermatology products that meet all the quality standards and suitable for all skin types. The company has skilled staff who offer safe, effective, and affordable derma products. We have a wide range of skincare solutions available in the type of:
| | | | | |
| --- | --- | --- | --- | --- |
| Cream | Tablets | Soap | Lotion | Capsules |
| CLINDAMYCIN, ADAPELENE GEL | ACYCLOVIR TABLETS | ALOEVERA, GLYCERINE, VITAMIN E SOAP | CALAMINE AND PARAFFIN LOTION | CLINDAMYCIN AND CLOTRIMAZOLE CAPSULES |
| FUSIDIC ACID 2.0%, BECLOMETHANE 0.25 % CREAM | ALBENDAZOLE & IVERMECTIN TABLETS | ALOE VERA, TEA TREE OIL, VITAMIN E, TRICLOSAN & ALLANTOIN SOAP | LUCO SENSE LULICONAZOLE LOTION | ISOTRETINOIN 20 MG SOFTGEL CAPSULES |
| FUSIDIC ACID OINTMENT | AZITHROMYCIN 250 MG TABLETS | COAL TAR & SALICYLIC ACID SOAP | LULICONAZOLE LOTION | ISOTRETINOIN SOFTGEL CAPSULES |
| GLUTATHIONE SKIN WHITENING CREAM | AZITHROMYCIN 500 MG TABLETS | KETOCONAZOLE SOAP | SERTACONAZOLE 2% LOTION | ITRACONAZOLE CAPSULES |
| HYDROQUINONE 2%, MOMETASONE 1.0%, TRETINOIN 0.025% CREAM | BETAHISTINE 16 MG TABLETS | PERMETHRIN SOAP | SUN EXPERT LOTION | |
Every Product in this table is DCGI and FSSAI approved with GMP and WHO certified formulations
Advantages of Starting a Derma Business with The Aesthetic Sense
As many people become more conscious about their beauty and skin the demand for quality skincare products rising instantly. Joining a hand with Aesthetic Sense will be the best choice for your life as we provide that skincare products that are not easily available in the market of Aurangabad. Start your career with the most genuine Derma PCD Franchise Company in Aurangabad:
Minimum Investment requires
Reduce the factor of risk
great profit margins
Association with medical professionals
Chance to expand your business in your desired location.
Be a part of Top Derma PCD Franchise in Aurangabad
The Aesthetic Sense is one of the leading pharma companies. As we are the fastest growing pharmaceutical company in India we take special care while we manufacture the derma solutions and make them suitable for each skin type at reasonable prices. We work with international quality standards as we understand the importance of healthy skin and hair in someone's life. We are offering an employment opportunity through our exclusive PCD Franchise business. There are some amazing benefits that are given below:
The monopoly-based franchise business.
Quality Guaranteed products with completed certifications
100% customers and clients satisfaction
attractive promotional schemes.
attractive packaging with a timely delivery system.
EXclusive marketing plans to grow your business
Contact us Today!
Name- Aesthetic Sense
Phone- +91 87270 99068
Email-  tassales.india@gmail.com