Derma PCD Franchise in Allahabad
Amid a surge in skin issues lead to the high demand for derma products. This scenario has been going on for decades due to the lack of quality derma products in the dermatology industry. The Aesthetic Sense is an ISO certified company and amongst the very few top derma companies which deal in clinically approved best quality derma products  Our organisation is setting its derma franchise in several parts of the country, where the Derma PCD Franchise in Allahabad is also one of them.
The Aesthetic Sense totally focused on delivering quality derma products to our franchise holders. Our Derma PCD Franchise in Allahabad also comes with an effective range of WHO and GMP certified products. The company offers franchise business lots of benefits such as monopoly rights, promotional inputs, visual aid, incentives and many others. We have a wide range of DCGI and FSSAI approved products which are available at very reasonable prices.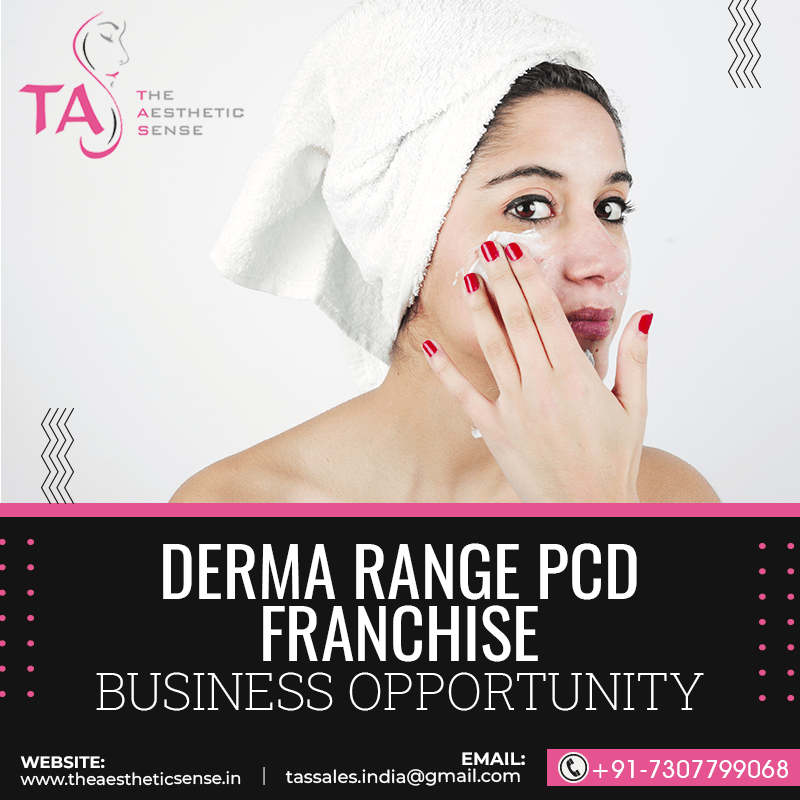 Our company is welcoming new clients who want to become entrepreneurs by opening a Derma PCD Franchise in Allahabad. Call us at 87270 99068. Our upcoming clients also can text us at tassales.india@gmail.com.
High Scope In The Derma Franchise Business
With the rise in skin problems, it is quickly becoming one of our society's primary concerns. Along with this, consumers are always looking for the highest-quality skincare products on the market. People are suffering from various kinds of skin problems even most of them have been struggling with the issues like pimples, acne, rashes, hair fall and etcetera for a long time. It generates new demand regularly for the derma market due to the fact that today the dermatology market is worth around 750 USD Million. The Derma market is assumed to increase by double the current value. The main reason as we stated is skin issues which are as follows.
Acne 

Hives

Sunburn

Diaper Rash

Rosacea

Atopic dermatitis 
Top Derma Franchise Company In Allahabad- The Aesthetic Sense
The Aesthetic Sense is a preeminent name in the derma industry that has ISO certification and working on the curing of several skin issues. Our company is teamed with experts, researchers, logistics team, lab technician, marketing team and derma specialists. The staff of our company is well-qualified and hold specific degrees and experience in their own field. We have 150+ associates who are taking our products to different corners of the nation. Our company deals in most required products in the market and constantly makes a significant presence in the market.
These are some of the key qualities of our company
Norms laid by the World Health Organisation adhere to our company.

The company has a wide range of DCGI and FSSAI approved products.

A research team at our company always comes up with innovations.

The latest devices are being used at our manufacturing unit for top quality derma products.

Orders are delivered on time by our skilled logistics team to a given destination.
Immense Ranges For Quality Derma Compositions
The company has been managing to maintain its goodwill for many years just because of quality skincare products. That is why we never compromise with the effectiveness of our products. All medicines and cosmetics items are clinically approved, they are manufactured after going through several testing by our team of specialists. They have high proficiency in derma compositions and find exact reasons behind the different types of skin issues. Then we proceed with manufacturing those products. Our vast ranges of derma products are included.
Lotions 

Shampoo

Derma powder

Derma Creams

Oil

Injections

Syrup

Tablets

Ointments

Capsules
Perks Of Getting Derma Franchise From Us In Allahabad
The Aesthetic Sense is one of the topmost derma companies which lies in transparent services which we are providing to our clients. Moreover, we have also noticed that most of the associates make deals with us just due to our company's straightforward nature. We support our clients in each term as we think they are the actual backbone of our company. They play a vital role in taking our company on that level where not any other organisation has reached yet in the dermatology market. Apart from this, we also stand with them and give the best to grow their Derma Franchise Business.
Here are some points which stated the support gives by our company
The monopoly based derma franchise in Allahabad is helping our clients to work with full freedom in the area with minimal competition.

Notepad, pen, marketing beg, billing books, visiting cards, reminder cards given by us as promotional inputs.

The marketing assistant is also provided by our sales team which helps our clients to boost his or her business.

Clients do not have to worry about the stock availability as we keep most demanded derma products at our ware store.
If you are interested or planning to start a business in derma products in Allahabad. Then contact us and get Derma PCD Franchise in Allahabad with lucrative services 
Link with us!
The Aesthetic Sense
Phone no- 87270 99068
Email ID- tassales.india@gmail.com